Water, land and air are getting increasingly polluted, water tables are falling, soil erosion is leading to desertification, global warming is well underway, and species are dying out 1000 times faster than their natural rate of extinction.

In the near future, anthropogenic extinction scenarios exist: global nuclear annihilation, total global war, dysgenics, overpopulation, global accidental pandemic, ecological collapse, and global warming.
Environmental degradation is a result of socio-economical, technological and institutional activities. Degradation occurs when Earth's natural resources are depleted. These resources which are affected include: Water, Air, Soil, Plants, Animals and Microorganisms.

Global warming to make 2015 hottest year ever!

Arctic ice, 1980 and 2012.

A new study has warned that Glaciers in the Everest region of the Himalayas could shrink at least 70 per cent or even disappear entirely by 2100 due to global warming.

The next ice age could begin any day. Melting Ice Slows Down Ocean Circulation. The water in the Global Ocean Conveyor circulates because of differences in water density, which are caused by differences in temperature and salinity. Colder water is denser than warmer water, while saltier water is denser than fresh water. Water heated near the Equator travels at the surface of the ocean north into cold high latitudes where it becomes cooler. As it cools, it becomes denser and sinks to the deep ocean. More warm surface water flows in to take its place, cools, sinks, and the pattern continues. As the Earth continues to warm and Arctic sea ice melts, the influx of freshwater from the melting ice is making seawater at high latitudes less salty and hence less dense.
This ocean circulation interference caused by global warming could lead to a cooling in Western Europe. Currently the ocean currents carry warmth from the tropics up to the high latitudes. That warmth is lost to the atmosphere keeping the temperatures of places like England, Norway, and many other counties in northern Europe a bit milder than other places at the same latitude. If the Global Ocean Conveyor were to stop completely, the average temperature of Northern Europe would cool 5° to 10° Celsius, but even a slow down could lead to a measurable cooling.

We are losing forestland at a rate of 375 km2 each day. The world has already lost 80% of its original forests.1.1 billion acres of tropical forest were cleared in just thirty years, between 1960 and 1990. Brazil lost 91.4 million acres of its tropical forest between 1980 and 1990.

Deforestation in Nigeria prevails as one of the nations most severe environmental issue. According to data, Nigeria has the worlds worst deforestation rate at 3.5%. Between 2000-2010 the nation lost 31% of its forest cover and in 2000-2005 it lost more than half of its primary forests.

The 2015 Antarctic ozone hole formed later than usual and had the fourth-largest area measured since the start of the satellite record in 1979. Ozone protects life on Earth from the Suns ultraviolet (UV) radiation.

On Oct. 2, 2015, the ozone hole expanded to its peak of 28.2 million square kilometers, an area larger than the continent of North America. Throughout October, the hole remained large and set many area daily records.

A swathe of China was blanketed with acrid smog 9. november after levels of dangerous particulates reached around 50 times World Health Organization maximums, in what environmental campaigners said were the highest figures ever recorded in the country.
In 1952, the Great Smog of London killed 8000 people. Air pollution in India is estimated to cause 527.700 deaths every year.
Every 1 million ton of oil that is shipped, approximately 1 ton from gets wasted in the form of spills.



The Kuwaiti oil fires were caused by Iraqi military forces setting fire to a reported 605 to 732 oil wells along with an unspecified number of oil filled low-lying areas, such as oil lakes and fire trenches, as part of a scorched earth policy while retreating from Kuwait in 1991 due to the advances of Coalition military forces in the Persian Gulf War.
foto:NASA
The fires were started in January and February 1991, and the first well fires were extinguished in early April 1991, with the last well capped on November 6, 1991.
foto:Steve McCurry
The Kuwaiti Oil Minister estimated that in terms of total oil spilled, between 25-50 000 000 barrels of unburned oil from damaged facilities pooled to create approximately 300 oil lakes, that contaminated around 40 million tons of sand and earth. The mixture of desert sand, unignited oil spilled and soot generated by the burning oil wells formed layers of hard "tarcrete" which covered nearly five percent of Kuwaits land mass.

The Deepwater Horizon oil spill began on 20 April 2010 in the Gulf of Mexico on the BP-owned Transocean-operated Macondo Prospect. Spill date: 20 April - 19 september 2010. Volume - 4.9 million barrels.
Today garbage too often accumulates in an unregulated manner, such as with the Great Garbage Patch, a floating sea of debris in the Pacific Ocean that is twice the size of Texas.The trash ranges from microscopic pieces of plastic to large chunks.
Researchers estimated between 4.7million and 12.7million tons of plastic made its way into the worlds oceans in 2010, with a best estimate of 8million tons.

The Plastic Island.
Between 2010 and 2025, some 155million tons of plastic could be dumped into the ocean enough to fill 100 bags per foot of coastline.
In Lagos, Nigeria, highly toxic electronic waste, much of which is shipped from developed countries, creates health and ecological problems.
Maldives and garbage island.


The largest nuclear weapon ever tested was the "Tsar Bomba" of the Soviet Union at Novaya Zemlya on October 30, 1961, with the largest yield ever seen, an estimated 50-58 megatons.



Operation Crossroads was a pair of nuclear weapon tests conducted by the United States at Bikini Atoll in mid-1946. Because of radioactive contamination, Bikini remains uninhabited.


Chemist Glenn T. Seaborg, the longest-serving chairman of the Atomic Energy Commission, called Operation Crossroads "the world's first nuclear disaster."

Our species caused 322 animal extinctions over the past 500 years, with two-thirds of those occurring in the last two centuries.


Earth has lost half of its wildlife in the past 40 years, says WWF. The steep decline of animal, fish and bird numbers was calculated by analysing 10.000 different populations, covering 3000 species in total. This data was then, for the first time, used to create a representative Living Planet Index, reflecting the state of all 45.000 known vertebrates. One third of all land mammals and bird risk extincion by 2050.
thousands of chinese trawlers
In many maritime regions of the world, illegal fishing has massively contributed to the depletion of fish stocks, especially in developing countries coastal waters.

Some experts put the annual figure at around 11 million tonnes; others suggest that it may be as high as 26 million tonnes equal to 14 or 33 per cent respectively of the worlds total legal catch (fish and other marine fauna) in 2011.
Farerøy

Greenpeace activists in an inflatable intercept the worlds second largest factory fishing trawler, the FV Margiris and attempt to block the monster ship from entering Port Lincoln in South Australia.


The wildlife trade involves hundreds of millions of wild plants and animals from tens of thousands of species. To provide a glimpse of the scale of wildlife trafficking, there are records of over 100 million tonnes of fish, 1.5 million live birds and 440,000 tonnes of medicinal plants in trade in just one year.
75% of all the fish stocks in the world are already either: exploited, over-exploited or recovering. 27% of coral reefs have already been and 70% of Earth's coral reefs will cease to exist within the next forty years.

The world has lost half of its coastal wetlands, including mangrove swamps and salt marshes.

shark finning

bear paws


In the next 30 years, as many as one-fifth of all species alive today will become extinct.

23% of all mammals and 12% of all birds species were considered "threatened" in 2003.

At the worlds current rates, 5-10% of tropical forest species will become extinct every decade.
aquarium fish
The Chinchaga fire was a forest fire that burned in northern British Columbia and Alberta in the summer and early fall of 1950. With a final size of between 1400000 ha and 1700000 ha, it is the single largest recorded fire in North American history. The fire was allowed to burn freely, a result of local forest management policy and the lack of settlements in the region.
In the early 1960s, the Soviet government decided the two rivers that fed the Aral Sea, the Amu Darya in the south and the Syr Darya in the east, would be diverted to irrigate the desert, in an attempt to grow rice, melons, cereals, and cotton. This was part of the Soviet plan for cotton, or "white gold", to become a major export.

The construction of irrigation canals began on a large scale in the 1940s. Many of the canals were poorly built, allowing water to leak or evaporate. From the Qaraqum Canal, the largest in Central Asia, perhaps 30 to 75% of the water went to waste.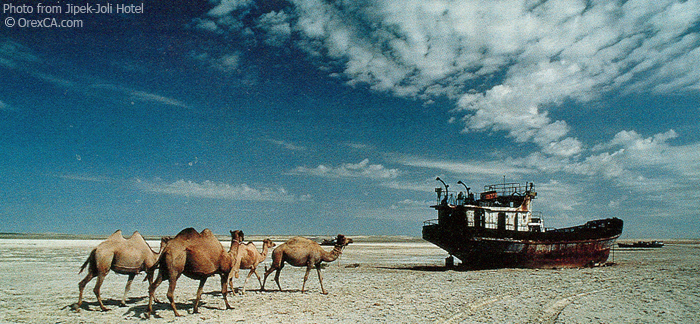 From 1960 to 1998, the sea's surface area shrank by about 60%, and its volume by 80%. In 1960, the Aral Sea had been the world's fourth-largest lake, with an area around 68,000 km2 and a volume of 1,100 km3; by 1998, it had dropped to 28,687 km2 and eighth largest.
The Three Gorges Dam is the worlds largest power station.
Flooding land for a hydroelectric reservoir has an extreme environmental impact: it destroys forest, wildlife habitat, agricultural land, and scenic lands. In many instances, such as the Three Gorges Dam in China, entire communities have also had to be relocated to make way for reservoirs.
Flooding caused by the Merowe Dam along the Nile in Sudan.
The Churchill Falls Generating Station is a hydroelectric power station located on the Churchill River in Newfoundland and Labrador. The construction involved the flooding of over 5000 km2 of traditional hunting and trapping lands. The generating station was commissioned between 1971 and 1974. Despite vocal objections to many dams from civil society the number of planned dam projects in tropical regions is growing. On the Mekong alone, one of tropical Asia's biologically richest rivers, some 11 dams are planned by 2030, while 77 hydroelectric projects are in the works for the Mekong Basin. Meanwhile some 150 dams are planned in the Amazon Basin.

The Chernobyl Nuclear disaster is widely considered to have been the worst power plant accident in history on 26 April 1986 in the town of Pripyat, in Ukraine. The battle to contain the contamination and avert a greater catastrophe ultimately involved over 500,000 workers. An explosion and fire released large quantities of radioactive particles into the atmosphere, which spread over much of the western USSR and Europe. Approximate radiation levels Vicinity of the reactor core 30,000 roentgens per hour. Four hundred times more radioactive material was released from Chernobyl than by the atomic bombing of Hiroshima. Approximately 100,000 km² of land was significantly contaminated with fallout, with the worst hit regions being in Belarus, Ukraine and Russia. Of the approximately 500,000 'liquidators' that were engaged in the Chernobyl clean-up, roughly 50,000 were required to work as 'bio-robots', in conditions of such extreme radiation that electronic robots ceased to operate.
The Fukushima Daiichi nuclear disaster was an energy accident at the Fukushima I Nuclear Power Plant, initiated primarily by the tsunami of the Tōhoku earthquake and tsunami on 11 March 2011. Radioactive Water From Fukushima Is Systematically Poisoning The Entire Pacific Ocean.
Urbanization is a population shift from rural to urban areas. The United Nations projected that half of the world's population would live in urban areas at the end of 2008. It is predicted that by 2050 about 64% of the developing world and 86% of the developed world will be urbanized.

The mix of changing environmental conditions and the growing population of urban regions, according to UN experts, will strain basic sanitation systems and health care, and potentially cause a humanitarian and environmental disaster.

The most populous urban agglomerations as of July 1, 2015 - Guangzhou, China - 46.900.000.

The Bhopal disaster, also referred to as the Bhopal gas tragedy, was a gas leak incident in India, considered the world's worst industrial disaster. It occurred on the night of 23 December 1984 at the Union Carbide India Limited pesticide plant in Bhopal, Madhya Pradesh. Over 500,000 people were exposed to methyl isocyanate gas and other chemicals. The toxic substance made its way into and around the shanty towns located near the plant.
Top 10 Anthropogenic environmental disasters -
1. Bhopal: the Union Carbide gas leak
2. Chernobyl: Russian nuclear power plant explosion
3. Seveso: Italian dioxin crisis
4. The 1952 London smog disaster
5. Major oil spills of the 20th and 21st century
6. The Love Canal chemical waste dump
7. The Baia Mare cyanide spill
8. The European BSE crisis
9. Spanish waste water spill
10. The Three Mile Island near nuclear disaster

In October 2010, the small town of Ajka, Veszprém County, in western Hungary, witnessed an environmental disaster that is considered the worst in the countrys history.

There are more than 500 million cars in the world and by 2030 the number will rise to 1 billion. This means pollution level will be more than double.


A single car generates half a ton of CO2 and a NASA space shuttle releases 28 tons of C02.
Kudzu, a Japanese vine species invasive in the southeast US, growing in Atlanta, Georgia
Invasive species are one of the leading threats to native wildlife. Approximately 42% of Threatened or Endangered species are at risk primarily due to invasive species.
An invasive species can be any kind of living organisman amphibian, plant, insect, fish, fungus, bacteria, or even an organisms seeds or eggs that is not native to an ecosystem and which causes harm. Or animal species that is not native to a specific location (an introduced species), and which has a tendency to spread to a degree believed to cause damage to the environment, human economy or human health. Hundreds of extinctions have been caused by invasive alien species. The ecological cost is the irretrievable loss of native species and ecosystems.
The impacts of invasive species on our natural ecosystems and economy cost billions of dollars each year. Many of our commercial, agricultural, and recreational activities depend on healthy native ecosystems.
Rabbits in Australia. Australia is host to 56 introduced invasive vertebrate animal species.
Invasive species are primarily spread by human activities, often unintentionally. People, and the goods we use, travel around the world very quickly, and they often carry uninvited species with them. Ships can carry aquatic organisms in their ballast water. Insects can get into wood, shipping palettes and crates that are shipped around the world. Some ornamental plants can escape into the wild and become invasive. Some invasive species are intentionally or accidentally released pets.
With half a million pieces of space debris cluttering Earths orbit, according to NASA, this means there is a growing problem of cluttering up our access road to space.
According to NASA, Americas space agency, the skies high above the Earth are cluttered up with around 23,000 pieces of man-made space junk measuring 10 cm or more across, zipping along at great speed and posing a threat to working satellites.

A fleck of paint travelling at an orbital velocity of 17,500kph can dent a spacecraft, kill an astronaut or do enough damage to throw a satellite off course. Inoperative rockets are prone to random explosions of the unused fuel they carry. In February a snag in an American weather satellites battery caused it to explode. The incident scattered more than 100 new fragments of junk into space. In 2007 China deliberately blasted one of its own spacecraft in a test of an anti-satellite weapon.

Adverse alteration of water quality presently produces large scale illness and deaths, accounting for approximately 50 million deaths per year worldwide, most of these deaths occurring in Africa and Asia. In China, for example, about 75 percent of the population (or 1.1 billion people) are without access to unpolluted drinking water, according to China's own standards.
Citarum River is located west of the crowded island of Java in Indonesia, runs along 350 km., In the past was used for fishing and irrigation. It is now considered one of the most polluted rivers in the world.

Beijing, May 2007. Environmental activists show samples of water taken from the Chinese city of rivers and lake.


Eco-Everest clean-up expeditions led by Dawa Steven sherpa each year since 2008 have retrieved 15,000 kilograms of trash.
Human waste piling up over decades gave off an "unpleasant odour" and posed a health hazard to people dependent on water from rivers fed by the region's melting glaciers.
Human excrement is a bigger problem than the oxygen bottles, torn tents, broken ladders, and cans or wrappers teams left behind, Nepal Mountaineering Association chief Ang Tshering sherpa said. Some 4000 climbers have scaled Mount Everest, with snow shrouding the bodies of at least 260 who have died trying.


Agent Orange or Herbicide Orange is one of the herbicides and defoliants used by the U.S. military as part of its herbicidal warfare program, Operation Ranch Hand, during the Vietnam War from 1961 to 1971. About 17.8 percent 3,100,000 hectares of the total forested area of Vietnam was sprayed during the war, which disrupted the ecological equilibrium.
Animal testing, also known as animal experimentation, animal research, and in vivo testing, is the use of non-human animals in experiments. No animals are safe from experimentation primates, dogs, rats, mice, rabbits, pigs, fish, and cats are just a few of the animals who are routinely used in these tests. Researchers kill 25 to 50 million animals each year. Worldwide it is estimated that the number of vertebrate animals from zebrafish to non-human primates ranges from the tens of millions to more than 100 million used annually.


PETA opposes zoos because cages and cramped enclosures at zoos deprive animals of the opportunity to satisfy their most basic needs. In general, zoos and wildlife parks preclude or severely restrict natural behavior, such as flying, swimming, running, hunting, climbing, scavenging, foraging, digging, exploring, and selecting a partner. The physical and mental frustrations of captivity often lead to abnormal, neurotic, and even self-destructive behavior, such as incessant pacing, swaying, head-bobbing, bar-biting, and self-mutilation.Proponents of zoos like to claim that zoos protect species from extinction seemingly a noble goal. However, wild-animal parks and zoos almost always favor large and charismatic animals who draw large crowds of visitors, but they neglect less popular species that also need to be protected.Warehousing animals for life is not the way to save them from extinction. Their salvation lies in protecting habitats, not in creating animal prisons. Instead of patronizing zoos, you can help animals by supporting organizations that work to protect captive animals from exploitation and preserve habitats.
Each year, approximately 10,000 bulls die in bullfights, an inaccurate term for events in which there is very little competition between a nimble, sword-wielding matador and a confused, maimed, psychologically tormented, and physically debilitated animal.

Sei whales (Balaenoptera borealis) live in all of the world's oceans, where they spend summer feeding in cold waters and winter migrating to tropical or sub-tropical zones to breed. But although they're widespread, sei whales number only about 80,000 in total. This is largely a result of the whaling industry of the 19th and 20th centuries, when an estimated 300,000 sei whales were killed for meat and oil.
Ice floe strewn with seal carcasses.
Oover 300,000 seal pups were killed each year. Harp seals, which can live for 30-35 years and only reach sexual maturity between 4-6 years, are targeted by the sealers when they are between 3 weeks and 3 months of age. Many of these have not yet taken to the water or eaten their first solid meal.
85 percent of the fur industrys skins come from animals on fur factory farms - dismal, often filthy places where thousands of animals are usually kept in wire cages for their entire lives. To cut costs, fur farmers pack animals into unbearably small cages, preventing them from taking more than a few steps in any direction or doing anything that is natural and important to them, such as running, swimming, making nests, and finding mates. Many animals go insane under these conditions.

Conquest of the Americas or European colonization of the Americas - 145,000,000 death (1492-1898)

World War II - 85,000,000 death (1939-1945)
HIV / AIDS pandemic in Congo Basin - 30,000,000 death (1960- present)